Finding and reading news articles from another country could be getting a whole lot easier, thanks to a new feature Google has in the works for its Search function.
Earlier this week, Google announced two new features to its search engine, including one that will suggest local news articles from other countries that have been automatically translated into the user's native language using Google Translate. In the company's Sept. 28 announcement of the new features, Google claimed that this feature will help users broaden their access to different viewpoints and perspectives from across the world.
"Say you wanted to learn about how people in Mexico were impacted by the more than 7 magnitude earthquake earlier this month," reads a blog post from Google's Search and News teams. "With this feature, you'll be able to search and see translated headlines for news results from publishers in Mexico, in addition to ones written in your preferred language. You'll be able to read authoritative reporting from journalists in the country, giving you a unique perspective of what's happening there."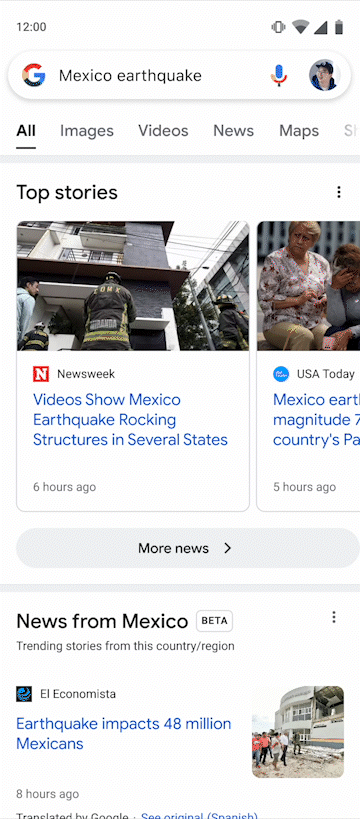 Essentially, when users search for news, the results may also include headlines and articles from local news publications that have been translated into the preferred language. When Google begins rolling this feature out in 2023, it will automatically translate headlines and articles from Spanish, French, and German into English, however the company is likely to expand these offerings for more languages after the feature is fully rolled out. Users will be able to access these results on both mobile and desktop versions of the search engine.
Currently, users can easily translate news articles via Google Translate using a Chrome extension. However, this new feature will streamline the process of searching for and accessing articles from other countries, as the results will be automatically translated into the preferred language by the time they come across the article on the search engine.
In its Sept. 28 blog post, the company also announced that it would be rolling out a "Discussions and forums" option that allows users to sort out search results from forums and discussions to gain access to more conversational, dialogue-based information than you might find in other sources. Google has already begun rolling this feature out for mobile users in the US whose preferred language is English.